Obituary for Jean Elizabeth Sudbury
Though our hearts are broken, we know that our precious mom, Jean, is joyfully reunited with the love of her life, John, as together they enjoy their reward for a life well lived.
Jean was born a twin, and according to first-hand observations Jean and Jane were as different as night and day when they were little but loved each other dearly. Their mother died when they were eighteen months old, so the girls spent their early years with loving grandparents who owned a dairy located in what is now the middle of Austin. The girls loved their grandparents dearly and were with them until their daddy remarried when the twins were seven years old. They loved each other as sisters—especially twins—do.
As they grew up, their unique personalities developed as each discovered her own interests and chose different life paths. Jane followed a career in nursing and Jean attended the University of Texas where she earned her Bachelor of Science in Institutional Management. Jean learned archery from her daddy and while attending UT she further honed her archery skills, earning the title of champion archer multiple times. Of even greater significance is that Jean met John while both attended UT, and where they married, graduated, and began their life together.
Jean was always proud of the fact that among all her girlfriends who married, she was the only one who continued on to graduate. After Jean's graduation and John's receipt of his PhD, the young couple moved to Ponca City, OK, where John's professional career began, and where their family grew as three children were born. From the beginning, church remained central to their lives.
Jean and John's life revolved around church and family. Their home was always open, whether hosting friends from church, out of town company, the church high school class, or missionaries from overseas. While in Ponca, they began a lifelong relationship with Oklahoma Christian [College] University. Each found their own niche with OCC, and in the early years Jean especially enjoyed her work with the OCC ladies' group, Stepping Stones. In addition, Jean remained involved in VBS, Ladies Bible Class, crafts, entertaining, and welcoming the ladies into her home. Not only was the family immersed in church, but family time included camping, sports, fishing, badminton, ping pong, horseplay, snowball fights, board games, swimming, and roller skating. Life in Ponca was simple and good. Another chapter, however, was about to begin.
After twenty years in Ponca, John's job with Conoco took the family to the San Francisco area for an unexpectedly quick year, while at the same time their eldest son left for his freshman year at OCC. This year was followed by a transfer to Connecticut for two years where they also became an integral part of a growing congregation in Stamford. This move was followed by another transfer, this time to the suburbs of Pittsburgh, PA. John and Jean were instrumental in a successful church plant and were thoroughly engaged in its growth. At the same time, Jean encountered a new opportunity.
Jean had always enjoyed crafts, both creating and sharing the "how to" with others. While living in Pennsylvania, she began teaching crafts and decoupage in her basement studio. As her joy and confidence grew, she eventually bought an art and craft store—in the days before the modern-day mega craft stores—enabling her to share her love of decoupage, painting, quilting, counted cross stitch, ceramics, and crafting with thousands of ladies via her full monthly calendar of daily art and craft classes. John helped with the custom framing, and their daughter taught a variety of classes. Quite by accident, several of the other employees had either a southern or Texas accent which the "northern" customers found delightful. Jean worked hard, had a large following, was successful—and loved it.
More than a decade after moving to PA, another change was on the horizon. After thirty-five years with Conoco, John decided to retire. But this enabled him to do something he had always wanted to do—full-time Christian service. He accepted the opportunity to work with Eastern European Mission and Bible Foundation based in Houston, so he and Jean packed up and moved back to Texas.
Both were excited about what was in front of them and about the opportunities for evangelism in Eastern Europe, especially as they traveled throughout the Eastern Bloc and met with both workers and new converts. Jean and John both worked with EEM—John more than full-time and Jean with Women for Eastern European Mission [WEEM].
Not long after resettling in Texas, Jean encountered a new opportunity. She bought a small card and gift shop, but soon converted it into what would be the first Hallmark store in The Woodlands. Shortly thereafter she acquired an existing Hallmark store in Spring, and finally she created another Hallmark store in The Woodlands. She was busier than ever with three stores and especially enjoyed her twice yearly buying trips at Dallas Market Center.
More than twenty years after returning to Texas, Jean and John opted to downsize, "retire" again, and return to OK. Settling near the OCU campus, they delighted in making new friends and renewing old acquaintances. The devoted couple spent every day together. After John's passing, Jean enjoyed several more years with her Tealridge friends. Health changes necessitated another move where she soon made more new friends. Eventually the time came for her to return to Texas one more time, where she enjoyed the rest of her life.
Jean and John had a long full life together—they shared more than sixty-three years. Their faith and love for each other were the common threads no matter where they lived, no matter what their circumstances. Both as individuals and as a couple they remained a strong Christian example throughout their lives, whether to family, friends, or strangers encountered along the way. Though temporarily separated by death, they are now reunited forever.
Jean is joyfully reunited with her husband, John; son, James; parents, Vernon and Noreen; and stepmother, Margetta.
Jean is survived by her twin sister, Jane; son, Byron; daughter, Linda (m. Jim); and five grandchildren and their families, including nine great-grandchildren.
On August 25, 2018, Jean's life was celebrated at a memorial service in OK, followed by a dual grave-side service for Jean and John.
For those wishing to honor Jean's memory with a memorial contribution, please consider the following:
Alzheimer's Association www.alz.org
Eastern European Mission www.eem.org
Oklahoma Christian University www.oc.edu
To send flowers or a remembrance gift to the family of Jean Elizabeth Sudbury, please visit our Tribute Store.
Previous Events
Graveside
Resthaven Memorial Park
1901 East Hubbard Road
Ponca City, OK 74604
Cemetery Details
Location
Resthaven Cemetery
16006 South Rock Creek RD
Shawnee, OK 74801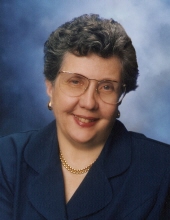 Thank you for sharing your
memory of Jean
Provide comfort by sending fresh
flowers from our local florist.
No thanks, please don't show me this again.